On the one hand, we aim to heighten awareness of environmental sustainability among our employees and customers in our day-to-day work and, on the other hand, we approach this issue in a highly practical manner. We make sparing use of resources on our premises, support regional producers, use solar power and, in the case of building measures, opt for those offering the greatest possible energy efficiency.
Waste management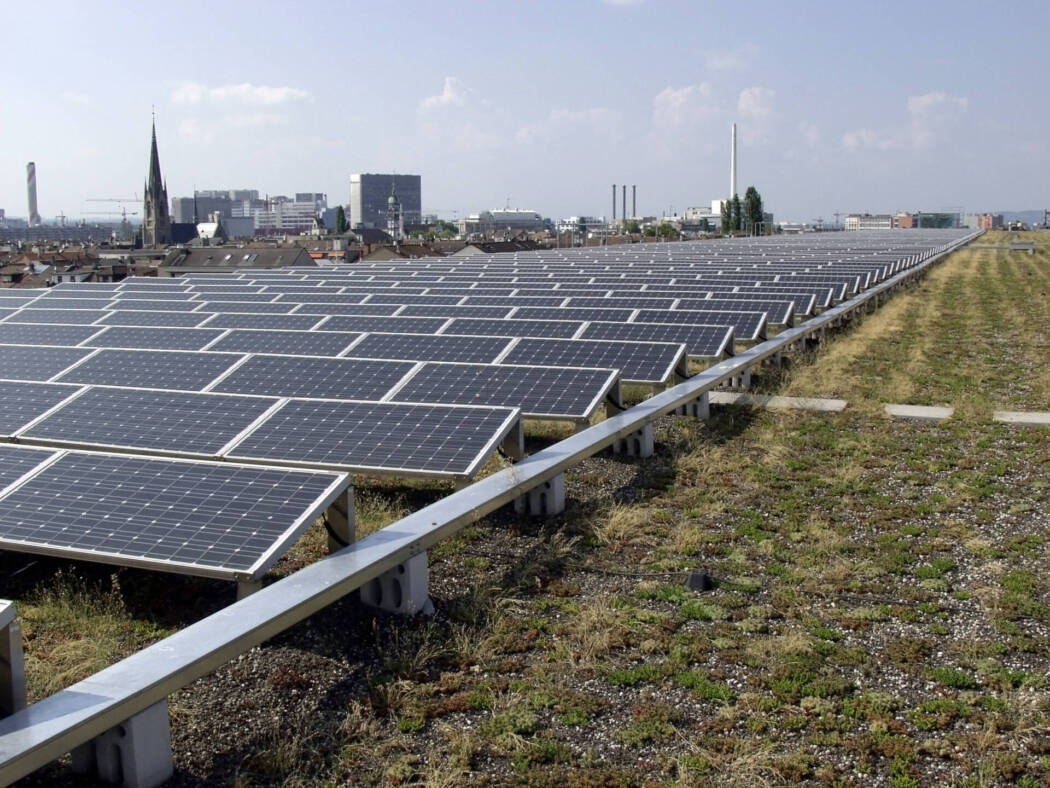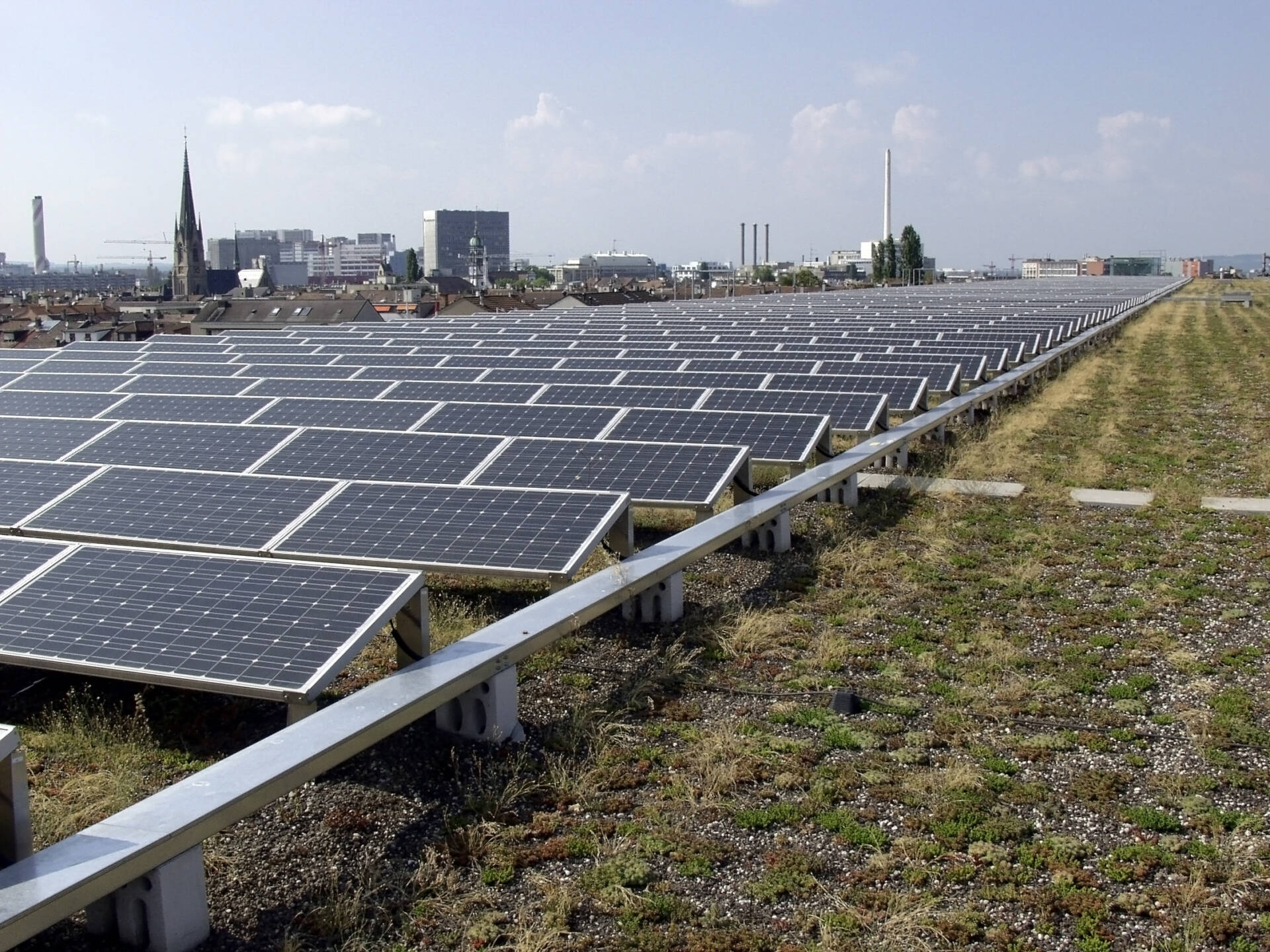 Environmental protection starts with the correct disposal of waste. At Messe Basel, we separate glass, batteries, paper, cardboard, lamps and other waste highly conscientiously. We then commission SRS Swiss Recycling Services to deliver the sorted waste to specialist recycling companies. To ensure that this process runs smoothly, we provide our employees with regular information and training on the topic.
Solar energy
Generating around 2 million kWh per year, Messe Basel is not only an event location but also a not-to-be-overlooked electricity producer. A photovoltaic system was mounted on the north side of the roof of Hall 1 back in 1999. With a panel area of 1,900 m², the system generates an output of 215,000 kWh each year. In addition, a system four times this size was mounted on the south side of the roof in 2013. This was installed in cooperation with an investor and feeds approximately 1,080,000 kWh electricity annually into the grid of Basel's electric utility, Industrielle Werke Basel (IWB). We also make the roof of the Congress Center available free of charge to "Wettstein 21". This district association has been operating another photovoltaic system on our roof since 2014, generating around 180,000 kWh electricity each year.
Minergie certificate
When Hall 1 South was constructed in 2013, great importance was attached to achieving the highest possible energy efficiency – not only in respect of the insulation for the building shell but also with regard to resource-saving heating, ventilation and cooling. All the relevant systems are thus only operated when required, and use is also made of the waste heat generated. This makes it possible to fully comply with the target values of SIA standard 380 / 4. The Basel-Stadt Minergie certification agency has also honoured these efforts by awarding Messe Basel the Minergie-Label BS-054, which was developed specially for our building.
Energy consumption and emissions
The canton of Basel-Stadt has been pursuing a progressive energy and environmental policy for many years. For example, the entire city obtains its electricity from renewable sources. Messe Basel covers its electricity needs from 100% renewable energy generated from European wind farms. The electricity is purchased from the Elektrizitätswerk Zurich (ewz).
Catering
Wassermann & Company AG, Messe Basel's exclusive catering partner, is committed to transparency when it comes to the origin of its products. The company's work is also based on a conscious approach to food and the use of ecological packaging units. It additionally sees itself as a sparring partner for organisers, highlighting sustainable alternatives to existing concepts.
Transport
By offering a range of special tickets in cooperation with both Swiss railways (SBB RailAway) and German railways (Deutsche Bahn), Messe Basel promotes the use of public transport for people attending large-scale events. If visitors stay overnight in a Basel hotel, they will also benefit from the BaselCard giving them free travel on trams and buses throughout the city.
Logistics
Messe Basel has developed an online tool specially for the management of its exhibitors' deliveries. This keeps traffic congestion and traffic searching for parking spaces to a minimum. Deliveries are made underground and all movements on the exhibition site are performed by our logistics partner, Sempex, which adheres to a quality management system to ISO 9001.
Green Meeting Checklist
We have compiled a practical checklist for organisers so as to ensure that the events held in our locations leave the smallest possible ecological footprint. This provides information on all the available options for organising events sustainably – from waste disposal and catering through to the use of public transport.
Are you interested in further sustainability topics?
Economic sustainability
Exhibitions, congresses and events bring enormous economic benefit to the region in which they are held.
Social sustainability
We adhere to the MCH Group's Code of Conduct and are a responsible employer.
Tips for your sustainable event
We will be pleased to support you in planning your event and show you the different options that are available for making your event more sustainable.