On 28 and 29 March 2023, the Sustainability Days at the Congress Center Basel will bring together experts from various industries to discuss the topic of sustainability. As part of the congress and exhibition formats SmartSuisse, Re' Summit, Future-Proof Infrastructure and MUT – Environmental Technology Trade Fair, trends will be identified, products and services will be presented, and concrete solutions will be discussed. This will take place with a compact exhibition and first-class congress programmes.
Current ecological, economic and social challenges require a comprehensive transformation towards sustainability. The essential foundation for transformation processes is responsibility. With the slogan "Get things done", experts from various industries will meet for two days at the Sustainability Days to exchange information and ideas on current and future sustainability issues for cities, regions, the environment and the economy, and to discuss how sustainability and the future could look.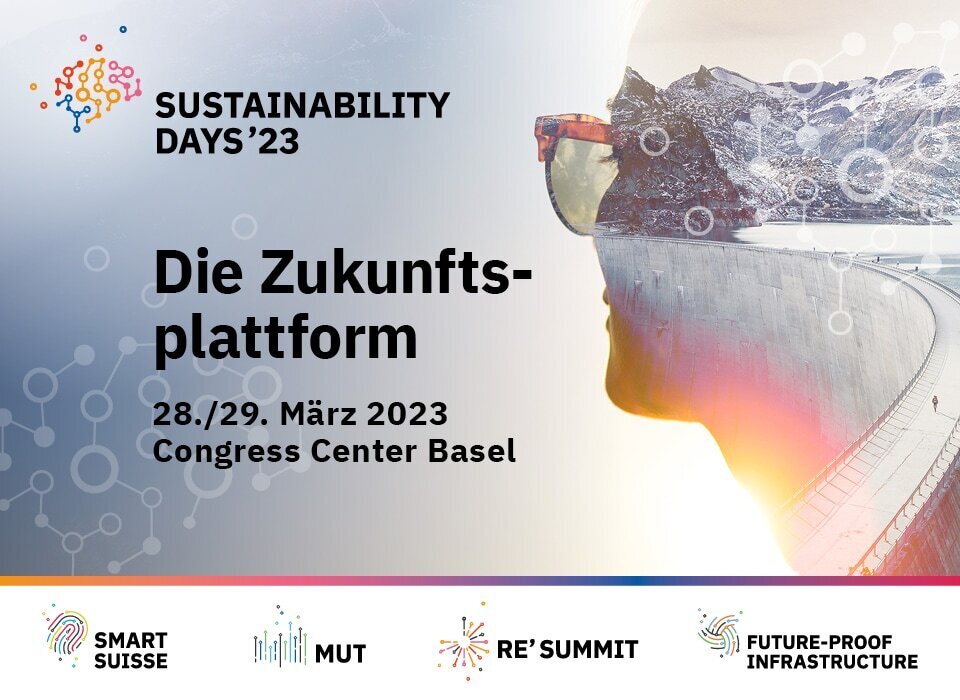 "The Sustainability Days offer the exclusive opportunity to obtain information relevant to specific branches and topics. At the same time, it provides an extremely efficient way to establish valuable contacts with decision-makers and opinion leaders in the field of sustainability, who will help shape the life of tomorrow more sustainably," says Julien Rousseau, Brand Director of the Sustainability Days.
The individual congress series present best practice examples, insights into current development and research, as well as presentations of new technologies, thus offering unique added value. Renowned experts from Switzerland and abroad will inform and inspire during exciting keynotes and discuss central topics such as urban development, climate change, mobility and corporate sustainability. More than 150 speakers will share valuable knowledge and thought-provoking impulses on some 15 key topics with trade visitors.
SmartSuisse is an annual strategy congress with accompanying exhibition, which covers the most promising smart city topics. With a unique mix of strategy and concrete solutions as well as a cross-industry approach, SmartSuisse promotes the networking of the public sector with business and science.
Re' Summit is an annual sustainability congress with accompanying exhibition. It promotes the exchange of opinions and experiences between companies, researchers, politicians and broad sections of the population. Based on the universally applicable Sustainable Development Goals (SDG) of the United Nations, the Re' Summit advocates for responsible economic progress in harmony with environmental protection and social justice.
The English-language Future-Proof Infrastructure congress takes place virtually and focuses on critical issues related to planning and financing sustainable and resilient infrastructure for the future.
The MUT – Environmental Technology Exhibition brings together different suppliers and around 3,000 users from Switzerland for two days of exchange on the latest developments and products to protect the environment.
Media contacts
Julien Rousseau, Brand Director Sustainability Days
T +41 58 206 25 84, julien.rousseau@messe.ch
Noemi Schmidt, Marketing & Communications
T +41 58 206 58 53, noemi.schmidt@messe.ch