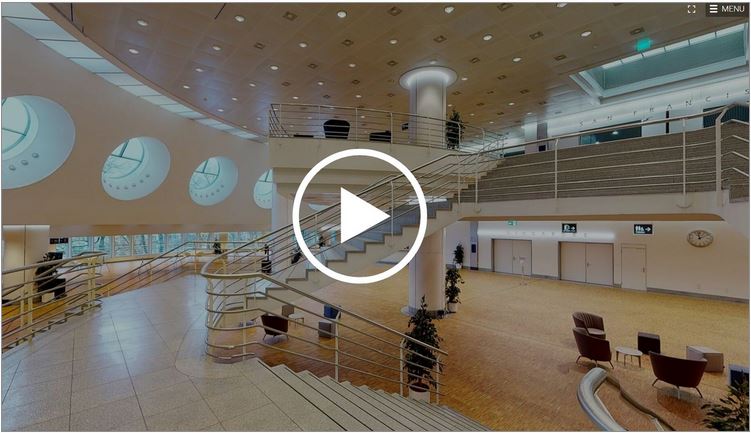 Despite the current situation, people are already looking ahead to the events of the future. In a bid to facilitate their planning, the team at the Congress Center Basel recently compiled a scan of the entire building. This gives planners a 360-degree perspective of the location from the comfort of their own home or workplace. They can then explore the entrance zone, the foyer, the auditorium and the different conference and breakout rooms. A number of these latter rooms are of a modular design, enabling them to be joined together. And that's not all: Hall 4 and the Event Hall can also be viewed in this interactive manner.
"We're convinced that we're offering our customers genuine added value with this virtual tour", says Silvia Decker, Director Business Development & Marketing at the CCB. "It is, after all, much easier to see which rooms are most suitable for a planned event when they can be viewed in three dimensions." Together with her colleagues, she is looking forward to welcoming interested parties virtually as of now!
Start your virtual tour of the Congress Center Basel right now!
We'd like to give you a few tips to help you find your way around on your online tour of the Congress Center Basel.
You can use the menu in the top right corner to navigate and change the language (D/E).
You can navigate to different points on each floor and in each hall to reach your destination faster.
By clicking on the menu item "Other rooms", you can switch to a different floor or hall. The following locations are available:
CCB entrance zone, CCB 2nd floor, CCB 3rd floor, Hall 4.0, Hall 4.1 and Hall 1 with the Event Hall.
The icons at the bottom left take you to the overview (dollhouse), the floor plan, the floor selection and a measuring function for the room in question.
If you have any questions on this, or are interested in an on-site visit, please contact us at basel@messe.ch – we look forward to hearing from you!